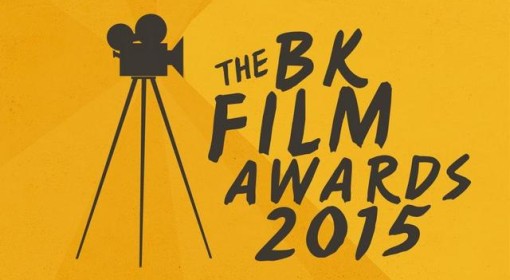 The BK film  => what BK loved and hated about Thai cinema in 2014.
Best Film – Teacher's Diary (Nithiwat Tharatorn)
OK, the writing or acting in this GTH rom-com won't blow any minds, but we think it's just about the best Thai film we watched last year. The premise of a guy falling in love with a girl by reading her diary could easily become bloated and bogged down by melodrama, which makes it even more impressive that director Nithiwat Tharathorn (of Seasons Change, the film that cemented GTH's position as the best Thai film company for many) was able to craft such a well-rounded story. The film has comedy and warm, fuzzy drama in just the right balance, making it a joy—and a breeze—to watch. The beautiful cinematography, which takes full advantage of one of Thailand's best-preserved natural environments, also deserves praise.
Best Leading Actress -Toei Jarinporn (Timeline)

The female lead in the sequel to 2004's hit romance film The Letter, Toei is a veteran of Thailand's film and TV industry, and she brings all that experience to the fore in portraying the lively and optimistic Mut. While Timeline's script is average at best, Toei instills her character with life and vigor, stealing every scene she's in. In fact, Toei's performance is the best thing about the film, hands down.
Best Leading Actor – Ananda Everingham (Concrete Clouds)

Ananda had a quiet 2013, possibly due to the backlash he received from the supremely disappointing 2012 film Shambala. His acting chops, however, have never been in doubt, and he was back to kick ass in 2014's Concrete Clouds. He fits the role of a foreign exchange student reluctantly called home perfectly, and his body language and mannerisms are as excellent as ever. Expect to see Ananda in every single TV commercial and music video again.
Best Supporting Actress -Marsha Wattanapanich (Love on the Rocks)

Marsha and her entourage of drinking friends are probably the only good thing about this illogical and poorly-thought out film. Her natural charisma and confident mannerisms make her character a joy to watch, even when everything else in the film makes not a lick of sense (let's not even get started on the irrationality of the two lead characters). It's a shame that her character only got such limited screen-time, and the second half of the film is infinitely less interesting without her.
Best Supporting Actor(s) – The kids in Teacher's Diary (Nithiwat Tharatorn)

It would be remiss not to mention all the kids who truly elevated this film from a run-of-the-mill love story into something more meaningful. The children also serve as another bridge between the two main characters, who supposedly never meet, giving them an important role in the overall story. The talent on display is also pretty impressive, with the kids pulling off comedic and dramatic scenes perfectly.
Best Documentary – The Master (Nawapol Thamronrattanarit)

This year, the edgy director of indie gems like 36 and Mary is Happy, Mary is Happy graced us with The Master, a documentary telling the story of Van Video, a humble little store that sold bootleg foreign art-house films back in the 90s and early 00s. The whole movie is basically just a bunch of people talking, answering interview questions with the occasional piece of inserted footage, yet it impressively elicited both laughter and tears from us throughout its run time.
Best Director Mez Tharatorn (I Fine…Thank You… Love You)

It was hardly a bumper year for Thai film, but the one production team you could rely on to deliver the laughs was GTH. As far as box office hits go, I Fine… Thank You… Love You had the second highest opening day for a Thai film ever—no laughing matter. As with his previous film, 2012's low-budget smash ATM: Er Rak Error, Mez showed a knack for telling a relatable story coated in over-the-top slapstick comedy, this time centering on English lessons and the often-unintended hilarity that ensues. The story isn't rocket science, but then we're not all rocket scientists, are we?
see more at the BK website
Source: BK
Did it integrate opposites, has it united differences under a common flag, did it break down barriers or has it sparked controversies? Be it the white girl with blonde curly hair and an African American girl embracing each other or an attempt to fight world hunger or pulsing hearts of three different races, United Colors of Benetton has defined a new era of fearless and provocative ads.
Italian art director and photographer Oliviero Toscani is credited with creating Benetton's daring advertising campaigns. Breaking the age-old advertising tricks, Benetton has always pushed sensitive subjects and challenged realities.
By 1984, Toscani's work started creating buzz with 'All the Colors of the World' campaign that focussed on young people of multicultural groups wearing the brand's apparels. A political alignment with consumers rather than just talking about the style and colours has helped in creating a movement against various social taboos.
Showcasing the message of unity in 1991, the brand portrayed one figure from three different continents warmed by a single blanket. The ad looked like a family portrait and gave the message of spreading love between people of different races. In order to fight world hunger in 1997, the brand used one of the most astonishing images to depict how hunger can consume human body. The most controversial ad was the 'Death Row' campaign that aimed at drawing attention to the controversy around capital punishment in the US. Convicted criminals were used as models and the photos were stamped with the words 'Sentenced to Death' and 'We, on Death Row'.
Right from bravely using HIV AIDS to the colourful mix of condoms and the Cold War campaign with a photo of two black children kissing and wrapped in different flags, the brand doesn't shy away from sparking debates.
The iconic image of an umbilical cord still intact to a baby and featuring a real AIDS patient on his deathbed was an unusual sight in the advertising space. To some it appeared distasteful and insensitive but it generated awareness about the disease and number of infant deaths.
Raising the bar of controversies again, Benetton recently launched the 'Unhate' campaign featuring religious leaders, prime ministers, presidents kissing each other as an attempt to foster global love and creation of a new culture of tolerance.
The campaign also took the Lion Grand Prix in Press; however, Benetton had to withdraw the photograph featuring Pope Benedict XVI kissing a senior Egyptian imam. The campaign generated more than 500 million hits and was among the top trending topics on Twitter.
The 'Unhate' campaign was followed by the launch of 'The unemployee of the year' communication campaign, set up under the aegis of the UNHATE Foundation, that seeks to challenge clichés about youth non-employment and asserts a belief in the creativity of the world's youth. The campaign aimed to support youth to become actors of change against indifference and stigma. Young non-employed people, between the ages of 18 and 30, were invited to submit outlines of projects to be supported and the 100 most deserving projects received support from the UNHATE Foundation to turn these projects into reality.
Oliviero Toscani is an Italian photographer, born in 1942, in Milan. He is the ingenious force behind some of the most successful brands and magazines of the world, such as Esprit, Chanel, Fiorucci, Benetton and more. He studied design and photography in Zurich from 1961 to 1965.
Many a times, eminent brands all around the world communicate controversial statements through their advertisements and promotional campaigns. Toscani is one such artist who makes it possible for these huge or elite companies to spread creativity yet taunt at some social, economic or political issue. Through his work, Oliviero Toscani has given insinuation to war, racism, capital punishment and religion.
What is unique about such advertisements by Oliviero Toscani and other creative photographers, is that there is no image of the product, yet things are made to be understood. In some advertisements, there is no hint about what is being sold. The same thing is presented in one of Toscani's work for No.l.ita, an Italian apparel company.
According to Toscani, as much as it is important to promote a product or service, it is equally important for a company to demonstrate their social sensitivity and intelligence to a society. So, he began working using such issue as a reference and kept experimenting. The results suggested that this tactic became successful. Over the eighteen years of his work for Luciano Benetton, the company grew 20 times in size. Hence, whenever there is a possibility to use such creative angles, Oliviero Toscani is always up for it. For him, the most important part of an advertising campaign is the concept and the communication.
The only objective of art is to illustrate the conditions of humans through rationality and emotions. Toscani thinks that he inherited this great talent from his father, Fedele Toscani. Fedele was a photojournalist for Corriere della Sera, Italy's well known daily newspaper. Thus, controversial photography is genetically transferred to him.
The latest Fox India Look Book was shoot by our team at Hilton in Hua Hin.
See backstage video:
and sample pictures:

รับบัตรชมภาพยนตร์ฟรีก่อนภาพยนตร์เรื่องนั้นๆเข้าฉาย 30 นาที ได้ที่โต๊ะกิจกรรมบริเวณหน้าโรงภาพยนตร์ที่จัดฉาย ถึงก่อนมีสิทธิ์ก่อน จำกัด 1 สิทธิ์ต่อ 2 ที่นั่ง ดูข้อมูลเพิ่มเติมได้ที่ https://www.facebook.com/notes/european-union-in-thailand/european-union-film-festival-2014/657175997670818 หรือโทร SF Call Center 02-268-8888
Free tickets will be available from 30 minutes before screening at European Union Film Festival 2014 booth in front of cinemasat the three screening venues. First come first serve, maximum two tickets per person per screening. For more information, please visit https://www.facebook.com/notes/european-union-in-thailand/european-union-film-festival-2014/657175997670818
Photographing Songkran in Thailand is a bit like underater photography  😉 So here is the collection of 200 random images taken during Songkran in Chiang Mai. This is how far you can go with the cheapest DSLR wrapped in a plastic bag from 7-11
Enjoy!
THE latest Pirelli calendar will not star fashion's current crop of supermodels as expected, rather the Italian tyre company – which launched its first risqué edition in 1964 as an marketing tool – will release an unpublished 1986 calendar shot by Helmut Newton.
The original version was never launched due to a mix of factors. Two calendars were commissioned in 1964, with the best one chosen for release. However, Newton was forced to stop shooting because of personal issues and his assistant took over the project, paying close attention to his boss's instructions, but, in the end, competing photographer Robert Freeman landed the job.
Pirelli celebrates its 50th anniversary next year, and its 2014 edition has been hailed as a celebration of its success to date. Each calendar is known for starring scantily-clad supermodels posing in provocative positions, although the 2013 edition was photographed by Steve McCurry – who adopted a more demure approach to the proceedings – having famously taken the striking portrait of the green-eyed Afghan Girl for the cover of the National Geographic in 1985.
In August this year, Pirelli unveiled a commemorative shoot of some of fashion's most famous models, including Miranda Kerr, Alessandra Ambrosio and Helena Christensen, which were thought to pre-empt its forthcoming calendar stars – although this wasn't to be.
From muddy smiles to mini ponies and a rodeo in France, here are the winners of the youth and open categories in the 2014 Sony World Photography Awards
source: Guardian UK
John Stanmeyer, a VII Photo member and National Geographic contributor, has won World Press Photo of the Year for an image of African migrants on the shore of Djibouti, "raising their phones in an attempt to capture an inexpensive signal from neighbouring Somalia"
World Press Photo of the Year 2013: 26 February 2013, Djibouti City, Djibouti African migrants on the shore of Djibouti city at night, raising their phones in an attempt to capture an inexpensive signal from neighboring Somalia—a tenuous link to relatives abroad. Djibouti is a common stop-off point for migrants in transit from such countries as Somalia, Ethiopia and Eritrea, seeking a better life in Europe and the Middle East © John Stanmeyer, USA, VII for National Geographic
"It's a photo that is connected to so many other stories – it opens up discussions about technology, globalisation, migration, poverty, desperation, alienation, humanity," says Jillian Edelstein, jury member of this year's World Press Photo. "It's a very sophisticated, powerfully nuanced image. It is so subtly done, so poetic, yet instilled with meaning, conveying issues of great gravity and concern in the world today."
US photographer John Stanmeyer of VII Photo was on assignment with National Geographic when he shot this image of "African migrants on the shore of Djibouti city at night, raising their phones in an attempt to capture an inexpensive signal from neighbouring Somalia – a tenuous link to relatives abroad," reads the caption. "Djibouti is a common stop-off for migrants in transit from countries such as Somalia, Ethiopia and Eritrea seeking a better life in Europe and the Middle East." The picture also won 1st Prize in the Contemporary Issues category.
Speaking to BJP, Stanmeyer says: "It's an honour and privilege to win. I hope it communicated the reality that we could be any one of those people on the beach, trying to talk to our families back home."
The image was shot during the first part of a multi-year project for National Geographic on human migration in northern Africa. "I spent a month driving and walking through Ethiopia and ended up in Djibouti, and I remember talking with my writer Paul Salopek on the beach at the Red Sea where, ironically, 60,000 years ago there was a land bridge that allowed us to continue our path – to connect. Today, we have other means of connecting, using, for example, mobile phone signals. I was in Djibouti city, walking along the beach looking for things to photograph, and I remember coming across that spot and seeing all of these people here; I asked my translator what they were doing. They were engaged in what is called 'catching'. They were trying to get a signal to talk to their loved ones at home. How can modern-day migration be more illustrated than this?"
Stanmeyer photographed at night in a bid to protect his subjects' identity and privacy. "People are very skittish, they don't want to be seen. Understandably. And I love photographing at night – it was a full moon that night."
Stanmeyer didn't expect to win the World Press Photo of the Year, which, he says, should also go to the entire team who worked with him on the story: "The writer, the photo editor I've worked with, the magazine that supports reportage storytelling. And it's also for the people in the image. I'm glad that I'm able to communicate something that is universal to us all. I have been that man or that woman in that frame countless times as I tried to reach my family back home. I'm thankful and honoured that something poetic, that I hope screams loudly, is shared this way now."
David Guttenfelder, a photographer with Associated Press and also a jury member, says: "The photo is like a message in a bottle, it is one that will last. People will bring their own life experiences to it as they stand in front of it."
"What we're looking for in the winning image is the same quality you would look for in a great film or in literature – the impression that it exists on more than one level, that it makes you think about things you haven't thought about," adds jury member Susan Linfield. "You begin to explore the layers, not only of what's there but of what isn't there. So many pictures of migrants show them as bedraggled and pathetic; this photo is not so much romantic as it is dignified."
Sarah Leen, National Geographic's director of photography, welcomes the win. "John Stanmeyer's winning image was the lead photograph in National Geographic magazine's December 2013 story 'Out of Eden'. It is an image of beauty and magic and wonderfully mysterious," she tells BJP. "It worked marvellously within our story but it also stands as an icon for the digital era we are living in. Today we seek connection and community with texts, tweets, images and emails. This photograph beautifully, and poignantly, speaks to that desire for connection thru a particular community of people separated from their families and loved one. It is a wonderful choice."
Stanmeyer's image was selected from among 98,671 images submitted by 5754 photographers from 132 countries. The jury was chaired by Gary Knight, also of VII Photo. He talks about the process: "Whenever anything comes on the screen, you are obliged to state to the jury that you have a potential conflict of interest. Every single time, you have to do the same thing. You repeat it over and over again. That was absolutely the case for me, and it was the case with many of the other jurors with photographs entered in this competition."
He adds: "Also, David Campbell, the secretary, has written down all of our associations, and if he notices that there is a pattern in our advocacy or our voting that is consistent with the professional relationship we may have, we get called out on it."
Winners
Other winners include: French photographer Philippe Lopez, who took first place in the Spot News (singles) category for his image of typhoon survivors in the Philippines; Goran Tomasevic from Serbia, who won first prize in the Spot News (stories) category for his image of rebels attacking a government checkpoint in Damascus, Syria; and Alessandro Penso from Italy, who won the General News (singles) category for his image of Syrian refugees. US photographer Sara Naomi Lewkowicz took first place in the Contemporary Issues (stories) category for her portrait of domestic violence; Markus Schreiber from Germany won first prize for his image Farewell Mandela, Pretoria, South Africa; and Julius Schrank, also from Germany, took first prize in the Daily Life (singles) category for his image of Kachin fighters in Burma.
Last year, Swedish photographer Paul Hansen won the World Press Photo of the Year title for a picture of a group of men carrying the bodies of two dead children through a street in Gaza City. The picture proved controversial after Hansen was accused of manipulating and toning his image. The ensuing debate forced World Press Photo to change its rules regarding "the permissible levels in post-processing of image files" submitted.
BJP Editor Simon Bainbridge comments:
The more I see John Stanmeyer's World Press Photo of the Year, the more I like it.
On first glance, seen without a caption, it looks like a rather cliched setup shot for a telecommunications advert, the silhouetted figures resembling sculptures – a naff reference to Mayans praying to their sun god, perhaps? – holding their mobile phones aloft in apparent reverence. But that works in favour of the picture when you learn that it is a reportage shot, and it highlights one of the most important stories of our times.
The figures are, in fact, African migrants, standing on the shoreline of Djibouti, the small republic wedged between the war-torn countries of Eritrea, Ethiopia and Somalia on one side, and the kleptocracy of Yemen, a short hop across the Gulf of Aden, on the other. They are holding their mobiles aloft in an attempt to catch a less-expensive phone signal from Somalia – maybe their only link to relatives abroad, or perhaps to contacts who will help them transit to Europe or the Middle East in search of better lives.
It is then a surprising picture, quite different from the images we are usually given to illustrate the wider story of migration out of Africa. It also hints at the role technology plays in this story, highlighting the fact that mobile phones, the internet and social media are bringing the so-called Undeveloped World closer to us in the West much quicker than the often arduous journey that migrants take to escape war or poverty – a reminder that our wealth and opportunity can no longer remain hidden.
see all pictures in the gallery

Source: BJP