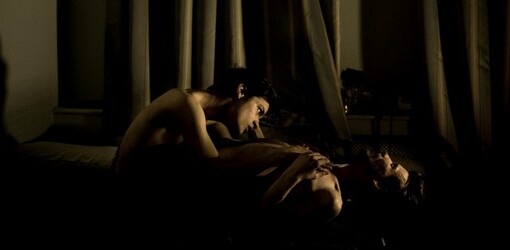 The jury of the 58th annual World Press Photo Contest has announced this year's winners. In what is considered one of the most prestigious photojournalism honors, prizes were given to 42 photographers in eight categories.
"World Press Photo is more interesting than being just a competition. The winning image fosters debate not only within the photo community, about who we are and where we're going and what we're trying to say, but also in the larger community. "
—Donald Weber, World Press Photo Juror
After sifting through almost 100,000 images submitted by nearly 6,000, this year's jury was able to award prizes to 42 different photographers. The winner of the coveted "World Press Photo of the Year" went to the Danish photographer Mads Nissen for his image of a gay couple in Russia.
After a year in which gay rights made headlines around the world, Nissen's image was the perfect reflection of the historic change being felt around the world. Although Russia continues to impose repressive policies on its LGBT community, there are signs of hope elsewhere in the world. In the words of juror Alessia Glaviano: "The photo has a message about love being an answer in the context of all that is going on in the world. It is about love as a global issue, in a way that transcends homosexuality. It sends out a strong message to the world, not just about homosexuality, but about equality, about gender, about being black or white, about all of the issues related to minorities."
This year's awards were also marked by an increased vigilance against image altering. After controversies in years past, the competition was vigilant to ensure that there were no content modifications in any of the images this year.
In the words of World Press Photo's managing director Lars Boering: "It seems some photographers can't resist the temptation to aesthetically enhance their images during post-processing either by removing small details to 'clean up' an image, or sometimes by excessive toning that constitutes a material change to the image. Both types of retouching clearly compromise the integrity of the image. Consequently, the jury rejected 20 percent of those entries that had reached the penultimate round of the contest and were therefore not considered for prizes."
Thus, we can be assured that this year's winners are not only of the highest quality but also the utmost integrity as well.
see all winning pictures here: http://www.worldpressphoto.org/awards/2015
Source: LensCulture
World Press Photo, who has selected VII Photo co-founder Gary Knight as chair of its 2014 contest, has announced a change of rules regarding "the permissible levels in post-processing of image files" submitted following this year's intense debate about manipulation in photojournalism
Earlier this year, World Press Photo was forced to re-evaluate the integrity of its winning image following false allegations of forgery leveraged against photographer Paul Hansen. While a panel of forensic analysts found that the image had not been digitally manipulated, it concluded that the image had gone through "a fair amount of post-production, in the sense that some areas [had] been made lighter and others darker," wrote Eduard de Kam, a digital photography expert at the Dutch Institute for Digital Photography.
The allegations were at the centre of an intense debate about the increasing post-production practice in photojournalism, as discussed in a BJP article published last May.
Now, World Press Photo has confirmed that it will introduce new rules for its 2014 contest. "There has been a lot of discussion and widespread speculation regarding the permissible levels in post-processing of image files in the contest," Michiel Munneke, World Press Photo's managing director. "We have evaluated the contest rules and protocols and examined how to create more transparency, and we have changed the procedures for examining the files during the judging."
He continues: "We will announce further details when the 2014 Photo Contest opens for entries later this year, but the bottom line is that we will need to be able to rely on the integrity and professionalism of the participating photographers."
The contest will be calling for entries in December with a 15 January 2014 deadline. The winners will be selected by a jury chaired by VII Photo's co-founder Gary Knight.
"The World Press Photo contest evolves every year as it seeks to adapt to the rapid changes in the media landscape," says Knight in a press statement. "The very definition of what constitutes the press or what is a photograph has transformed since the Award was instituted. World Press Photo takes its role as the world's most prestigious and multi-genre global photojournalism award very seriously and, as I look forward to chairing the jury again, there are new categories and a more diverse demographic of jurors to adapt to this changing topography."
For more information, visit www.worldpressphoto.org.
Source: BJP
BK Magazine has asked Bangkokians "What is it that you love so very dearly about your beautiful city?"
This is what they said:
Source: BK
The Foreign Correspondents' Club of Thailand (FCCT) and OnAsia have unveiled the winners of the annual FCCT/OnAsia Photojournalism Contest. The competition was the largest in its six-year history, attracting submissions from more than 375 photographers, a record, and over 6,000 images. Judges selected winners in four categories: Spot News, Feature Photography, Migration (a special category sponsored by the Delegation of the European Union to Thailand) and Photo Essay. In addition, the judges selected a Photographer of the Year, the contest's top prize.
See all pictures here
Source: Bangkok Post
The international jury of the 56th annual World Press Photo Contest has selected a picture by Paul Hansen of the Swedish daily Dagens Nyheter as the World Press Photo of the Year 2012. The picture shows a group of men carrying the bodies of two dead children through a street in Gaza City. They are being taken to a mosque for the burial ceremony while their father's body is carried behind on a stretcher. Two-year-old Suhaib Hijazi and his older brother Muhammad were killed when their house was destroyed by an Israeli missile strike. Their mother was put in intensive care. The picture was made on 20 November 2012 in Gaza City, Palestinian Territories.
The jury gave prizes in nine themed categories to 54 photographers of 33 nationalities from: Argentina, Australia, Belgium, Brazil, Canada, Chile, China, Czech Republic, Denmark, France, Germany, India, Indonesia, Iran, Italy, Jordan, Malaysia, Mexico, Palestinian Territories, the Netherlands, Peru, Poland, Portugal, Russia, Serbia, South Africa, Spain, Sweden, Switzerland, Turkey, United Kingdom, USA, and Vietnam.
The members of the jury announced the winners at a press conference held at the World Press Photo office in Amsterdam on 15 February.
Comments on the winners by the jury
Mayu Mohanna, jury member from Peru, said of Paul Hansen's winning picture: "The strength of the pictures lies in the way it contrasts the anger and sorrow of the adults with the innocence of the children. It's a picture I will not forget."
Santiago Lyon, vice president and director of photography at The Associated Press, spoke of the selection of prizewinners: "When I look at the results, as chair of the jury, I think that the World Press Photo of the Year, and all the other photos that were given prizes, were solid, stellar examples of first-rate photojournalism that is powerful, that is lasting, and that will reach whoever looks at them."
The judging was conducted at the World Press Photo office in Amsterdam. All entries were anonymously presented to the jury, who discussed their merits over a two-week period. The jury operates independently and a secretary without voting rights safeguards the fairness of the procedure. The contest drew entries from professional press photographers, photojournalists and documentary photographers across the world. By the mid-January deadline, 103,481 images had been submitted by 5,666 photographers from 124 countries.
View all winners in the online gallery.
source: imaging-resource.com
Have you ever wondered what it would be like to be a photojournalist for the military? As a photographer for the United States Air Force, Staff Sgt. Ryan Crane does just that, documenting life in the combat zone during recent deployments to Afghanistan.
A revealing new documentary by Hannah Hill, titled "Snap Snap Snap" (below), about Crane's life and work is up on YouTube and it's definitely worth checking out. (Running time is just under 15 minutes.) Crane, a Nikon shooter, also answered some questions about what it's like to be a photographer in a combat zone in an informal Q&A on Reddit (read it here), where the documentary was first shared.
Read full article here
Source: guardian.co.uk
The Nenets of northern Siberia live at temperatures of -35C, wash just once a year and eat raw reindeer liver to survive. Photographer Sebastião Salgado travelled with them.
Eight years ago, at the age of 60, Sebastião Salgado set out on his most ambitious project. The photographer, best known for his painterly portraits of migrant communities and manual workers, decided to document the world's pristine territories – areas untainted by the brutal grind of industry, exploitation and modern life.
Through his work, Salgado had seen so much horror – in the Democratic Republic of the Congo, he witnessed 10,000 people die in one day in the refugee camps of Goma. The playwright Arthur Miller once described Salgado's pictures as an act of deep devotion, but the photographer returned from Exodus, a project about people fleeing genocide, with his faith in tatters. "I was injured in my heart and my spirit," he says. "I came away from this with incredible despair." So he embarked on Genesis, hoping it would be restorative, a celebration of the world's natural beauty. (…..)
Read full article here
See all images here
by rosielarose. imdb.com
A film that took 5 years to make and co-ordinate. Shot in Panarama 70mm, across 26 countries, needing major government and regulatory clearances, having to wait for certain seasons or lunar phases to get the light to hit the way director Fricke wanted…carefully strung together with a massive 7.1 surround sound design and music score from Michael Stearns, Marcello de Francisci, and Lisa Gerrard (of Dead Can Dance).
The 70mm negative has been digitally scanned and oversampled at 8k resolution (much like the 'Baraka' Blu-ray); the TIFF Lightbox theatre installed a brand new Christie 4k projector (Christie Projection Systems rushed the projector before its release to the market specifically for this event) making it the first true 4k screening of it's kind.
From sweeping landscapes to time-lapse sequences of the night sky and from exclusive looks into the processing of food to the consumption and effects it has on the human body, Samsara is nothing short of astounding. Modern technology, production lines, and human robotics are juxtaposed against a backdrop of deserts, garbage mounds as far as the eye can see, and traffic congestion in modern centres. The time-lapse footage is simply transcendent. In fact, I caught myself questioning the reality of some of the landscape vistas and night skyline montages…they looked so hyper-real that I thought they must have come from a CG lab somewhere. Simply astonishing. The richness, depth and clarity of colour and image achieved within the processes utilized gives birth to the most beautiful visual meditation that I have ever witnessed.
As one film journalist noted, "That Samsara is instantly one of the most visually-stunning films in the history of cinema is reason enough to cherish it, but Fricke and co-editor Mark Magidson achieve truly profound juxtapositions, brimming with meaning and emotion. It sounds preposterous, but it's true: In 99 minutes, Samsara achieves something approaching a comprehensive portrait of the totality of human experience. If you're even remotely fond of being alive, Samsara is not to be missed."
(by topdocumentaryfilms.com)
It is a well-known fact that our society is structured like a pyramid. The very few people at the top create conditions for the majority below. Who are these people? Can we blame them for the problems our society faces today? Guided by the saying "A fish rots from the head" we set out to follow that fishy odor. What we found out is that people at the top are more likely to be psychopaths than the rest of us.
Who, or what, is a psychopath? Unlike Hollywood's stereotypical image, they are not always blood-thirsty monsters from slasher movies. Actually, that nice lady who chatted you up on the subway this morning could be one. So could your elementary school teacher, your grinning boss, or even your loving boyfriend.
The medical definition is simple: A psychopath is a person who lacks empathy and conscience, the quality which guides us when we choose between good and evil, moral or not. Most of us are conditioned to do good things. Psychopaths are not. Their impact on society is staggering, yet altogether psychopaths barely make up one percent of the population.
Through interviews with renowned psychologist Professor Philip Zimbardo, leading expert on psychopathy Professor Robert Hare, former President of Czech Republic and playwright Vaclav Havel, authors Gary Greenberg and Christopher Lane, professor Nicholas Christakis, among numerous other thinkers, we have delved into the world of psychopaths and heroes and revealed shocking implications for us and our society.
Watch the full documentary: