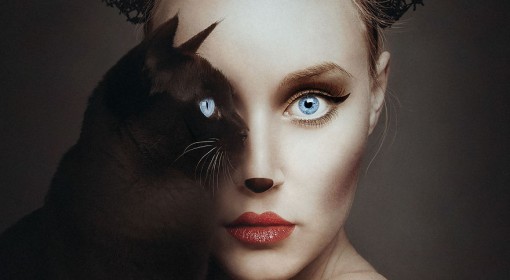 The photo-shoot was done in 1 hour, I just made pictures of myself with the matching hairstyle and makeup, and then matched with the photos of each animal. The manipulation took me up to 20 hours for each. "Animeyed" previously appeared on many social media platforms, but now it's an extended version with additional images.
I observed the angle, lighting, color and texture. The most typical things on each animal. I made a mood-board, I was inspired by makeup artists, and hairdressers' earlier works found on web.
I was amazed by the peculiarity of each species. I realized how perfect the Nature is, and the similarity between humans and animals. I love animals, and somehow I wanted to show that we are very similar to them. I also wanted to show how unique and special they are, one by one. From the fish to the cat.
I wanted to show the similarity between our eyes, and through this composition our likeness. The first picture what I made was the "Rabbit", and after this I decided to continue the series with this "right eye" set-up.
I used myself because it's the easiest way for me to produce pictures. I don't need to do model license or instruct the model what to do. It's all mine, and I know the look, expression what I need. I can achieve the result just in a few hours of shooting.
I tried to explore the human identity, what makes us human, and what is the relation between animals and people. The beauty what they give us through their look with their existence. People appreciate pretty body and face more, but these species are less appreciated in my opinion. So I wanted to draw attention to their unique look and existence.
Text & Pictures by Flora Borsi
Source: boredpanda.com
More info: floraborsi.com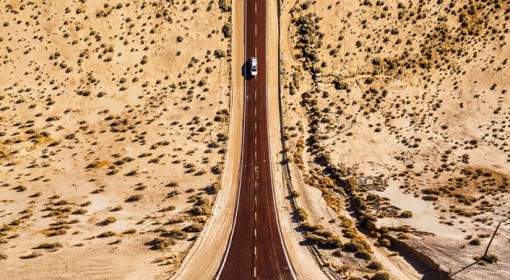 Turkish graphic designer and photographer Aydin Büyüktas has mastered the art of surrealism, and his latest project will leave your head spinning in the best way.
Büyüktas uses drones to take a series of overhead photographs, which he then blends together to produce a superb 'declining' effect, in which the world below looks progressively smaller and flatter – the project is, in fact, called Flatland. The name is derived from a book by English author Edwin Abbott, in which he imagines a 2-dimensional world inhabited by geometric figures.
Flatland II is Büyüktas's latest portfolio entry, featuring scenes he photographed while traveling across the US. We previously featured his stunning landscapes of Istanbul, so compare the East to the West below, and just remember that you're not actually falling – it's the picture.
Source: boredpanda.com
Pictures by: Aydin Büyüktas
Digital technology is such a good thing especially for those with extremely creative imaginations. London-based artist Daniella Zalcman realizes the concept behind her latest project, which is simply called New York + London: A Collection of Double Exposures. As the title declares, the collection is simply what it states.
From the Far Rockaway to the South Bronx in New York, or from Hammersmith all the way to White Chapel in London, the series merges iconic landmarks and imagery, turning into a series of amalgamated images of locations, haunts and skylines.
Originally inspired by the concept during her last month in New York City, Zalcman snapped over 100 smartphone photographs of the streets in NYC. With that start, she then used different smartphone apps to juxtapose her pictures of the Big Apple over images of London.
The composite results reveal striking similarities between two of the world's most iconic cities. Zalcman's work has been featured in The Wall Street Journal, Vanity Fair, and Sports Illustrated, and she is at present raising funds thru Kickstarter to fund a photo book of her work.
Zalcman recently spoke of New York + London: A Collection of Double Exposures,
"I was inspired by my move from New York City to London last year. I think it's natural (and unavoidable) to constantly compare your old home and your new home when you move somewhere new ("London cab drivers actually know how to get around!" "The Tube closes at 12:30am?!"), and this is my way of visually capturing that instinct. These images are very much about architecture and urban infrastructure and I love comparing the two cities in that particular respect. London feels like such an old city rooted in visual tradition, where New York always feels like it's trying to be as shiny and new as possible."
Source: Double Exposure
In commission of the City Archives and the The Amsterdam Fund for the Arts Erik Klein Wolterink has focused on the innards of the kitchens, as if the exterior didn't matter.
The photographer opened cupboards, drawers, fridges and ovens. Each piece he photographed separately and reconstructed the images again to one unit. Like him, we zoom in on what the cupboards have collected over months or even decades. From instant mashed potatoes to truffle oil, from Maggi cubes to Ethiopian spice mixes. This is the raw material with which we must try to imagine who belongs to these kitchens.
A well-stocked kitchen refers to Turkish cookery with goat's cheese and halal sausage. But the mix for homemade apple pie is a witness of an open attitude towards other customs. A mother shows her African roots with a plastic Voltic Sparkling Water bottle filled with palm oil. Female students undermine our prejudices with a spotless kitchen. In the kitchen of a family with growing children, a packet of Korma curry of Pakistani descent and cardamom pods try to square themselves with Dutch kitchen habits. Here the Dutch sandwich culture leaves its traces in the sandwich wrappers in the drawer, the sandwiches in the fridge and the Nutella chocolate paste in the sink cupboard next to the abrasive agent. The kitchen as metaphor of a complex, multicultural reality.
The book Kitchen Portraits is for sale in the City Bookshop.
see all the pictures here
source: Thisispaper.com
Antonio Busiello (first picture below) won for his photograph which 'raises valid and contemporary questions about body image.
Judge Anthony Holland Parkin said: "The Cullatore struck a chord with a number of the judges. In a world obsessed with retouched perfection, Antonio's honest image of a man proudly displaying his huge calluses challenges the viewer, and raises valid and contemporary questions, about body image."
Busiello was one of 1,285 photographers from 59 countries to enter the competition, of which 115 were selected for the exhibition.
Click here to see more photographs from the show
source: Independent UK
BK Magazine has asked Bangkokians "What is it that you love so very dearly about your beautiful city?"
This is what they said:
Source: BK
Do dogs really look like their owners? They do in this project by Swiss photographer Sebastian Magnani – he has spliced together portraits of the owners with their four-legged friends in a series called Underdogs
"I first started the project in August 2009. As soon as I had the idea, it had pretty much already been realized, namely to photograph dogs with their owners. What originally started out as entertainment, without expectation, without any pressure, was suddenly creating waves. The four-legged friends and their owners have since travelled the world. Various blogs, journals, and television shows have all reported on the bizarre image combinations of humans and animals. So where does this striking resemblance between dog and owner come from? Does the "underdog" really rank himself lower, even visually? It is undisputed that the canines not only stir emotions and interest, but also our inner most needs. Dogs are considered loyal, selfless, trustworthy, life saving, fun and proud companions in a world where these values are gradually disappearing. From the inexhaustible number of examples, lies the difficulty to find the gems, which captivate with uniqueness, brilliance and depth. Only to create a single moment of symbiosis – between man and beast – to be one."
See all pictures at The Guardian