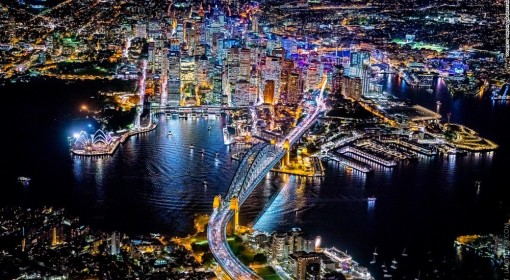 It's the world's greatest cities as they've seldom been seen before. Big, bustling, buzzing, bright — yet hauntingly peaceful and intimate.
Photographer Vincent Laforet spent early 2015 edging out of a helicopter door at vertigo-inducing heights of up to 12,000 feet photographing the likes of New York, Las Vegas, London, Sydney and Barcelona as night settled.
The result is "AIR," a new book that compiles the best and most spectacular aerial images captured throughout the project.

For Laforet, it was a thrilling experience and one that offered some surprising perspectives.
"When you are in any of these metropolitan areas on a street level, you feel a lot smaller and isolated," Laforet told CNN over the phone from New York. "You are overwhelmed by the noise and the differences you see on the ground."
"But when you are above these cities at several thousand feet or several kilometers, somehow they feel much more within grasp. You definitely feel more connected to the city and the people within it. There's this energy that's almost palpable."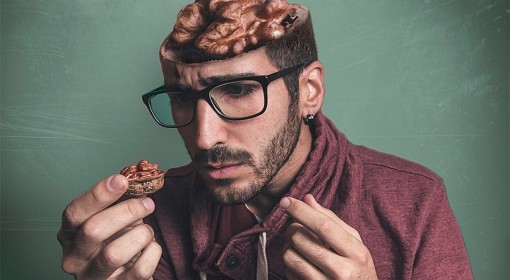 Fran Carneros is a visual artist who chooses to express himself via the medium of photography. His website is awash with an abundance of surrealist series that are incredibly compelling to look at – from landscapes, to portraits, to street photography, these are certainly some of the most absurd images you have ever seen.
For Carneros, surrealism is a "form of communication" and speaking of his projects, he outlines his intentions:
"I intend to express ideas that grow in my mind through a closely related technique of collage, although I use digital media to perfect pictures."
He goes on:
"With each of my photographs I intend to express absurd ideas and thoughts, but at the same time have the ability to make the audience think."
Indeed, the following images will undoubtedly make you 'think.' Dive right into the creepiness and check them out!
Fran Carneros website: http://www.francarneros.com/
source: moviepilot.com;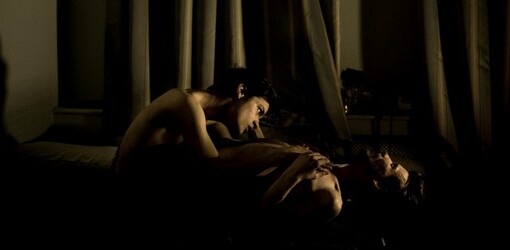 The jury of the 58th annual World Press Photo Contest has announced this year's winners. In what is considered one of the most prestigious photojournalism honors, prizes were given to 42 photographers in eight categories.
"World Press Photo is more interesting than being just a competition. The winning image fosters debate not only within the photo community, about who we are and where we're going and what we're trying to say, but also in the larger community. "
—Donald Weber, World Press Photo Juror
After sifting through almost 100,000 images submitted by nearly 6,000, this year's jury was able to award prizes to 42 different photographers. The winner of the coveted "World Press Photo of the Year" went to the Danish photographer Mads Nissen for his image of a gay couple in Russia.
After a year in which gay rights made headlines around the world, Nissen's image was the perfect reflection of the historic change being felt around the world. Although Russia continues to impose repressive policies on its LGBT community, there are signs of hope elsewhere in the world. In the words of juror Alessia Glaviano: "The photo has a message about love being an answer in the context of all that is going on in the world. It is about love as a global issue, in a way that transcends homosexuality. It sends out a strong message to the world, not just about homosexuality, but about equality, about gender, about being black or white, about all of the issues related to minorities."
This year's awards were also marked by an increased vigilance against image altering. After controversies in years past, the competition was vigilant to ensure that there were no content modifications in any of the images this year.
In the words of World Press Photo's managing director Lars Boering: "It seems some photographers can't resist the temptation to aesthetically enhance their images during post-processing either by removing small details to 'clean up' an image, or sometimes by excessive toning that constitutes a material change to the image. Both types of retouching clearly compromise the integrity of the image. Consequently, the jury rejected 20 percent of those entries that had reached the penultimate round of the contest and were therefore not considered for prizes."
Thus, we can be assured that this year's winners are not only of the highest quality but also the utmost integrity as well.
see all winning pictures here: http://www.worldpressphoto.org/awards/2015
Source: LensCulture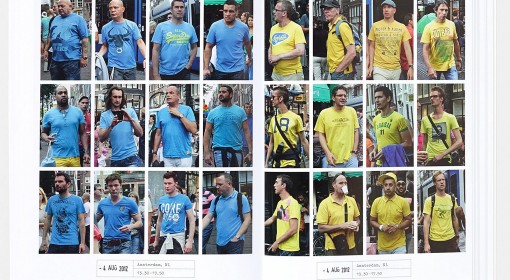 You could never accuse Hans Eijkelboom of a lack of dedication. For his new book, People of the Twenty-First Century, the photographer and conceptual artist spent 20 years lurking around shopping centres – initially in his native Netherlands, later in America and China. Working almost daily, he would note similarities in the appearance of passers-by and surreptitiously photograph them, or take "photo notes" as he calls them.
"The process," he says, "is simply that I walk to the centre of the city where many people are. Then I walk around for 10 to15 minutes. When something in the crowd intrigues me or touches me, I decide that will be the theme of the day. Then I start photographing for two hours. Many times, it goes wrong: I don't see anything, so I don't photograph that day; or I go to the city, see my subject, start photographing and, surprisingly, in the next two hours, never see my subject again. And then, for that day, there is no photo note."
Eijkelboom's previous works have included managing to insinuate himself into the background of every photograph that accompanied the main story in his local paper for 10 consecutive days; convincing wives whose husbands had gone to work to pose for a family photograph with Eijkelboom taking the place of the absent father; posing for self-portraits wearing entire outfits he'd bought for €10 or less. In those, the photographer was the star. With the photo notes, Eijkelboom effectively has to vanish.
"The camera is hanging on my body, with a wire that goes into my pocket," he says. "That's the way I make the photos. When you walk in the city and look through the viewfinder, people say, 'What are you doing? Why this photograph?' And so on. I don't have time to talk about what I'm doing, I want to get it done in two hours. And when you make a photo in a normal way, you intervene in the situation: people will react to the camera, and will not be normal."
Partly inspired by People of the Twentieth Century, August Sander's mammoth attempt to document German society from 1911 until his death in 1964, Eijkelboom wants to create a kind of visual diary. "The work I did before was always about my own identity and identity in society. I always have the feeling I am more or less the product of the society I'm living in – and the photo notes are trying to visualise my surroundings."
Furry hoods in Amsterdam. From Hans Eijkelboom's People of the Twenty-First Century
Facebook Twitter Pinterest
Furry hoods in Amsterdam, from People of the Twenty-First Century. Photograph: Hans Eijkelboom/Phaidon
The results, collated in a 500-page book, are simultaneously mundane and compelling. Laid out in a grid, the shots of women wearing pink T-shirts or businessmen carrying briefcases have a hypnotic, repetitious quality, but the longer you look at them, the more nuances become apparent. Eijkelboom used a similar technique in an earlier project, Paris-New York-Shanghai, an exhibition and a trio of books documenting everyday life in those cities that was widely perceived as being a deadpan comment on globalisation's effect on national identity. The point seemed to be that people increasingly dressed the same all over the world.
People of the Twenty-First Century offers a more positive message. Eijkelboom occasionally documents a fashion trend, or a tribal allegiance, where people are trying to look alike: bikers, Rolling Stones fans wearing the band's logo. But more often, the similarities between his subjects' appearances reveal themselves to be superficial. Eijkelboom might have chanced upon a dozen people all wearing yellow T-shirts, but they're not a uniform and their significance changes with each person: one shirt is pledging allegiance to a football team, another to a band, another to surfing.
"That's a very strange development in society," says Eijkelboom. "That wasn't the intention at the start of the project, but in the end you could say the book is about a fight, a war within society: more and more, big companies have their grip on people, in producing the clothes and so on. But in the book you see the possibilities to give it your own personal touch. When you now go to the Kalverstraat in Amsterdam, everybody has their own individual message on their T-shirt. But on the other hand, they all look the same, because they are all people with a message on their T-shirt. You can already see a little bit of change, making the power of the big companies weaker, I think. To own clothing by a brand is less important than five years ago."
Advertisement
He thinks this might have something to do with the rise of the internet, which the book inadvertently documents: its earliest photographs come from 1994, an era that was "a little bit more friendly, a little bit more naïve", when the internet was more discussed than used, when a feature about it in Time magazine still had to open by explaining what the web was.
"My project is related to the city and the crowd in the city. When I look at younger people now, I see more and more that the web is their city. It's more important now to have an identity on the web, which is very different from an identity shown through your clothes, and you can see that in the book. But I have so much trust in people that I think everybody will find a way to express themselves individually. But in what way? I really don't know."
Whatever happens, Eijkelboom intends to document it. He no longer goes out five days a week, but his days of lurking around shopping centres are far from over. "It is very important that I do it for as long as possible – because the very first photo notes I made are now the most interesting. Time is an important part of the project. I'm now 65. I hope I can do it for another 15 years."
source: The Guardian
From muddy smiles to mini ponies and a rodeo in France, here are the winners of the youth and open categories in the 2014 Sony World Photography Awards
source: Guardian UK
World Press Photo, who has selected VII Photo co-founder Gary Knight as chair of its 2014 contest, has announced a change of rules regarding "the permissible levels in post-processing of image files" submitted following this year's intense debate about manipulation in photojournalism
Earlier this year, World Press Photo was forced to re-evaluate the integrity of its winning image following false allegations of forgery leveraged against photographer Paul Hansen. While a panel of forensic analysts found that the image had not been digitally manipulated, it concluded that the image had gone through "a fair amount of post-production, in the sense that some areas [had] been made lighter and others darker," wrote Eduard de Kam, a digital photography expert at the Dutch Institute for Digital Photography.
The allegations were at the centre of an intense debate about the increasing post-production practice in photojournalism, as discussed in a BJP article published last May.
Now, World Press Photo has confirmed that it will introduce new rules for its 2014 contest. "There has been a lot of discussion and widespread speculation regarding the permissible levels in post-processing of image files in the contest," Michiel Munneke, World Press Photo's managing director. "We have evaluated the contest rules and protocols and examined how to create more transparency, and we have changed the procedures for examining the files during the judging."
He continues: "We will announce further details when the 2014 Photo Contest opens for entries later this year, but the bottom line is that we will need to be able to rely on the integrity and professionalism of the participating photographers."
The contest will be calling for entries in December with a 15 January 2014 deadline. The winners will be selected by a jury chaired by VII Photo's co-founder Gary Knight.
"The World Press Photo contest evolves every year as it seeks to adapt to the rapid changes in the media landscape," says Knight in a press statement. "The very definition of what constitutes the press or what is a photograph has transformed since the Award was instituted. World Press Photo takes its role as the world's most prestigious and multi-genre global photojournalism award very seriously and, as I look forward to chairing the jury again, there are new categories and a more diverse demographic of jurors to adapt to this changing topography."
For more information, visit www.worldpressphoto.org.
Source: BJP
Photographer Kacper Kowalski's aerial photos of Poland make for a flattering introduction to the country. Protruding into the southern Baltic sea, Pomerania in Poland is well-known for its great areas of forests that are scattered with lakes and winding rivers. The Kashubian Lake District is a land of enormous forests, rolling hills, untamed ravines speckled with giant boulders, colorful fields, picturesque villages, active rivers and hundreds of beautiful lakes.
During fall, the diverse forest sites turn into a sea of colors, with the leaves wilting at varying degrees while exposing the deep undergrowth as well as waterways. While airborne from para-gliders and geo-planes, Kacper Kowalski has been photographing this beautiful area from the air for years. His glorious pictures demonstrate nature's exquisiteness as it transforms through a year.
In commission of the City Archives and the The Amsterdam Fund for the Arts Erik Klein Wolterink has focused on the innards of the kitchens, as if the exterior didn't matter.
The photographer opened cupboards, drawers, fridges and ovens. Each piece he photographed separately and reconstructed the images again to one unit. Like him, we zoom in on what the cupboards have collected over months or even decades. From instant mashed potatoes to truffle oil, from Maggi cubes to Ethiopian spice mixes. This is the raw material with which we must try to imagine who belongs to these kitchens.
A well-stocked kitchen refers to Turkish cookery with goat's cheese and halal sausage. But the mix for homemade apple pie is a witness of an open attitude towards other customs. A mother shows her African roots with a plastic Voltic Sparkling Water bottle filled with palm oil. Female students undermine our prejudices with a spotless kitchen. In the kitchen of a family with growing children, a packet of Korma curry of Pakistani descent and cardamom pods try to square themselves with Dutch kitchen habits. Here the Dutch sandwich culture leaves its traces in the sandwich wrappers in the drawer, the sandwiches in the fridge and the Nutella chocolate paste in the sink cupboard next to the abrasive agent. The kitchen as metaphor of a complex, multicultural reality.
The book Kitchen Portraits is for sale in the City Bookshop.
see all the pictures here
source: Thisispaper.com
Antonio Busiello (first picture below) won for his photograph which 'raises valid and contemporary questions about body image.
Judge Anthony Holland Parkin said: "The Cullatore struck a chord with a number of the judges. In a world obsessed with retouched perfection, Antonio's honest image of a man proudly displaying his huge calluses challenges the viewer, and raises valid and contemporary questions, about body image."
Busiello was one of 1,285 photographers from 59 countries to enter the competition, of which 115 were selected for the exhibition.
Click here to see more photographs from the show
source: Independent UK
BK Magazine has asked Bangkokians "What is it that you love so very dearly about your beautiful city?"
This is what they said:
Source: BK
Do dogs really look like their owners? They do in this project by Swiss photographer Sebastian Magnani – he has spliced together portraits of the owners with their four-legged friends in a series called Underdogs
"I first started the project in August 2009. As soon as I had the idea, it had pretty much already been realized, namely to photograph dogs with their owners. What originally started out as entertainment, without expectation, without any pressure, was suddenly creating waves. The four-legged friends and their owners have since travelled the world. Various blogs, journals, and television shows have all reported on the bizarre image combinations of humans and animals. So where does this striking resemblance between dog and owner come from? Does the "underdog" really rank himself lower, even visually? It is undisputed that the canines not only stir emotions and interest, but also our inner most needs. Dogs are considered loyal, selfless, trustworthy, life saving, fun and proud companions in a world where these values are gradually disappearing. From the inexhaustible number of examples, lies the difficulty to find the gems, which captivate with uniqueness, brilliance and depth. Only to create a single moment of symbiosis – between man and beast – to be one."
See all pictures at The Guardian
See video from our last shoot in Hua Hin
Location: Hua Hin, Thailand
Photography: allPhoto Bangkok
Video & editing: T.A.I. Films
Models: EM Modeling
Event Coordination: Bangkok Event Entertainment
Shoot for: Thai Fashion Design

Take a look at some of fashion campaigns that were banned in the UK and elsewhere.


Tom Ford: Shot by Terry Richardson in 2007, this provocative Tom Ford campaign was criticized for its pornographic approach and was subsequently banned in several countries.

Levis: Banned in the UK, this advert from Levis went viral online. Featuring a supposedly blind man watching a woman strip in a public toilet, it has had over 26 millions views to date.

Part of Diesels "Kick Ass" campaign. With the tagline "Diesel Sneakers. Not made for Running. (Great for Kicking Asses)", it was never released on TV but went viral online.
More at: Hunger TV
As though straight out of a Tim Burton film or, more commonly, a dream, the Color Consumption photo series deals and wheels in the surreal. As its title suggests, each image focuses on the use of saturated hues that help to create the fantastical feel present in the photographs. From hot pinks and bright blues to different shades of green, the colors are fun, playful and even a tad mysterious.
Shot by Design Army, a studio based in Washington, DC, and founded by husband and wife team Pum and Jake LeFebure, the Color Consumption photo series is a self-initiated project centered around their main inspiration
The husband-and-wife team behind Design Army can sum up what drives them in one word: color. "Color makes us feel alive. It fuels our minds, connects spirits, and feeds imaginations," say Pum and Jake LeFebure, a design duo known predominantly for their layouts and publications. "It is everywhere when you look around. Everything on the planet is a color."
This has led to Color Consumption, a self-initiated series of photographs focused on the couple's main inspiration. The couple explains, "Color is a commodity. It is the ultimate currency to sustain and nourish our creative souls. It's a design mantra we call 'Color Consumption'."
Source: trendland.com
More information at www.designarmy.com
AB-Normal is the streets-wear brand for these who prefer the kind of edgy simplicity that gives wearers a unique character of their own – the inspiration comes from sculpture. Naming his collection "Wear White", designer Thaweesak Samanmit interprets the solid, strong structure of sculpture with a tender perspective. Using techniques that involves lines and polka dots, achieved through tucking and studs, the collection comes in an organic palette such as colors of soil, stone, cement and sand with white serving as a staple alongside beige, grey and black. The silhouettes remain simple, albeit with smart details in AB-Normal's Signature "Simple Chic" style.
See the entire collection below.
For editorial usage, please contact us
Beyonce's full summer ad campaign for H&M has been revealed, and she is definitely beach-body ready.
In a campaign titled "Beyonce as Mrs. Carter in H&M," shot by Inez van Lamsweerde and Vinoodh Matadin, Beyonce shows off her post-baby body in an array of colorful H&M swimwear cover-ups.
"I've always liked H&M's focus on fun affordable fashion. I really loved the concept we collaborated on to explore the different emotions of women represented by the four elements — fire, water, earth and wind," said Beyonce. "It was a beautiful shoot on a tropical island. It felt more like making a video than a commercial."
The campaign, which was shot in the Bahamas earlier this year, will help promote her upcoming world tour. A full TV spot will also join the print campaign, and will feature a new song, "Standing on the Sun."
Check out the complete photo shoot here.
Beyonce Knowles ad campaign for H&M Credit: Courtesy of H&M
The Foreign Correspondents' Club of Thailand (FCCT) and OnAsia have unveiled the winners of the annual FCCT/OnAsia Photojournalism Contest. The competition was the largest in its six-year history, attracting submissions from more than 375 photographers, a record, and over 6,000 images. Judges selected winners in four categories: Spot News, Feature Photography, Migration (a special category sponsored by the Delegation of the European Union to Thailand) and Photo Essay. In addition, the judges selected a Photographer of the Year, the contest's top prize.
See all pictures here
Source: Bangkok Post
The newest collection of Victeerut shown at Elle Fashion Week Bangkok in W Hotel on the 16th of March 2013.
For editorial usage, please contact us
The international jury of the 56th annual World Press Photo Contest has selected a picture by Paul Hansen of the Swedish daily Dagens Nyheter as the World Press Photo of the Year 2012. The picture shows a group of men carrying the bodies of two dead children through a street in Gaza City. They are being taken to a mosque for the burial ceremony while their father's body is carried behind on a stretcher. Two-year-old Suhaib Hijazi and his older brother Muhammad were killed when their house was destroyed by an Israeli missile strike. Their mother was put in intensive care. The picture was made on 20 November 2012 in Gaza City, Palestinian Territories.
The jury gave prizes in nine themed categories to 54 photographers of 33 nationalities from: Argentina, Australia, Belgium, Brazil, Canada, Chile, China, Czech Republic, Denmark, France, Germany, India, Indonesia, Iran, Italy, Jordan, Malaysia, Mexico, Palestinian Territories, the Netherlands, Peru, Poland, Portugal, Russia, Serbia, South Africa, Spain, Sweden, Switzerland, Turkey, United Kingdom, USA, and Vietnam.
The members of the jury announced the winners at a press conference held at the World Press Photo office in Amsterdam on 15 February.
Comments on the winners by the jury
Mayu Mohanna, jury member from Peru, said of Paul Hansen's winning picture: "The strength of the pictures lies in the way it contrasts the anger and sorrow of the adults with the innocence of the children. It's a picture I will not forget."
Santiago Lyon, vice president and director of photography at The Associated Press, spoke of the selection of prizewinners: "When I look at the results, as chair of the jury, I think that the World Press Photo of the Year, and all the other photos that were given prizes, were solid, stellar examples of first-rate photojournalism that is powerful, that is lasting, and that will reach whoever looks at them."
The judging was conducted at the World Press Photo office in Amsterdam. All entries were anonymously presented to the jury, who discussed their merits over a two-week period. The jury operates independently and a secretary without voting rights safeguards the fairness of the procedure. The contest drew entries from professional press photographers, photojournalists and documentary photographers across the world. By the mid-January deadline, 103,481 images had been submitted by 5,666 photographers from 124 countries.
View all winners in the online gallery.
By the February 18th you can submit pictures for the Bangkok Post "MY BANGKOK" Photo Contest.
T&C are available here.
Some of the submitted images you can see at Bangkok post Facebook albums: