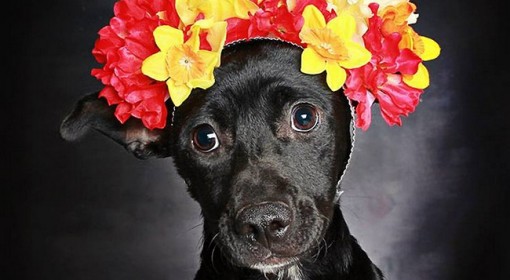 Darker-colored pups, it's said, have a hard time finding homes — in part because their adoption photos don't always turn out so great.
Humane Society of Utah photographer Guinnevere Shuster is changing all that with a stunning new series of adoption pictures, centered around one very simple, laudable idea.
"People often comment on how black dogs do not photograph well, so I really wanted to show that they can," Shuster says.
Shuster's photos were inspired by New York City-based photographer Sophie Gamand's work with pit bulls. Last year, Gamand took stunning photos of adoptable pits wearing elaborate flowered headdresses to help break down stereotypes and increase adoptions for the dogs, which are overrepresented at her local shelters and rescue groups.
"Here at the Humane Society, it was black dogs needing the extra spotlight," says Shuster.
It's worked. Since the pics first went up at the end of January, six of the eight dogs who modeled for the initial round of photographs have been adopted. That includes two 10-year-old Labrador retrievers who'd gotten no interest up until these photos, even though they'd been featured in the Utah Humane Society's weekly TV spot.
"I would have expected two, maybe three, to have been adopted within that time without the photos," says Shuster, who previously found success with photo booth-style adoption pics.
The pictures came out so well, and the results have been so striking, that a few other shelters and rescue groups have reached out to find out how they can highlight their black beauties' best features. Shuster says it's really easy — and cheap. She used a black backdrop, to best show off the dogs' gorgeous eyes. Then she spent $22 on faux flowers to be hot-glued into paper crowns, picked up at a Dollar Store.
"Oh, I did raid one dried flower arrangement for the two lotus flowers and dried wheat grass," says Shuster.
"When people see this series I hope they see how beautiful black shelter dogs are," says Shuster, whose ultimate aim isn't just to get her own rescue group's dogs adopted, but to inspire folks from all over to bring home black dogs of their own. "Using photography to feature adoptable animals is a passion of mine and I'm always trying to come up with ideas to help those who need it most."
Along those lines, Shuster's already working up ideas for the next group of hard-to-place animals who need her — and her camera's — special attention: cats.
"Last year during kitten season I just tried doing the studio shots without huge success," she says, "so it will be interesting to see if doing a series will really help with them like it has the dogs."
Source: Huffingtonpost.com
Renowned photographer Sandro Miller has worked together with legendary Hollywood A-Lister John Malkovich many times, but when Miller wanted to celebrate the photography greats that had inspired and guided him, he had to do something special. So he, with Malkovich as his dashing unisex model, recreated some of those influential photographers' most important portraits in a photo series called "Malkovich, Malkovich, Malkovich: Homage to photographic masters."
The series puts both Miller's exceptional photography and Malkovich's masterful acting talents front and center. Miller gets each amazing portrait's lighting, mood and composition down perfectly, while Malkovich replicates the subject's emotions and expressions so perfectly that the photos become nearly indistinguishable, regardless of the age or gender of the original subject. And it was all done without Photoshop!
More info: sandrofilm.com | edelmangallery.com
Looking back at old classics, we are presenting a collection of portraits by Helmut Newton
He led the ultimate glamorous life. He lived in the Chateau Marmont in the winter months, to keep the cold and gloom at bay, befriending Billy Wilder, Dennis Hopper and Robert Evans. He was married to fellow photographer Alice Springs, quirkily named after a pin was placed in a map.
Newton arrived in Paris in a white Porsche, was hired immediately by French Vogue, commissioned by Playboy, had a heart attack at 50, and lived in Monte Carlo. Then in a final fling – or what Karl Lagerfeld poetically described as "his last picture, taken by himself", he crashed his Cadillac on Sunset Boulevard aged 83, on January 23 2004.
After taking a model onto the streets during an early assignment at British Vogue, he was sternly told by the editor that "ladies, Helmut, do not lean against lampposts"
All Newton's exhibitions were curated by his devoted wife; all books edited by her, including: White Women (1976), Sleepless Nights (1978), Big Nudes (1978), World Without Men (1984) and the massive Sumo (1999), which came out at 31 inches, 26 kilos, £625, and with its own coffee table (Brad Pitt bought several copies)
  Celebrating 51 years of marriage in 1999, their joint exhibition and book, Us And Them, included Alice's photo of Newton wearing nothing but black stockings and his strangely tender portrait of her lying on a hospital bed, following a major operation, wearing a catheter and a huge metal zip running up her stomach.
In commission of the City Archives and the The Amsterdam Fund for the Arts Erik Klein Wolterink has focused on the innards of the kitchens, as if the exterior didn't matter.
The photographer opened cupboards, drawers, fridges and ovens. Each piece he photographed separately and reconstructed the images again to one unit. Like him, we zoom in on what the cupboards have collected over months or even decades. From instant mashed potatoes to truffle oil, from Maggi cubes to Ethiopian spice mixes. This is the raw material with which we must try to imagine who belongs to these kitchens.
A well-stocked kitchen refers to Turkish cookery with goat's cheese and halal sausage. But the mix for homemade apple pie is a witness of an open attitude towards other customs. A mother shows her African roots with a plastic Voltic Sparkling Water bottle filled with palm oil. Female students undermine our prejudices with a spotless kitchen. In the kitchen of a family with growing children, a packet of Korma curry of Pakistani descent and cardamom pods try to square themselves with Dutch kitchen habits. Here the Dutch sandwich culture leaves its traces in the sandwich wrappers in the drawer, the sandwiches in the fridge and the Nutella chocolate paste in the sink cupboard next to the abrasive agent. The kitchen as metaphor of a complex, multicultural reality.
The book Kitchen Portraits is for sale in the City Bookshop.
see all the pictures here
source: Thisispaper.com