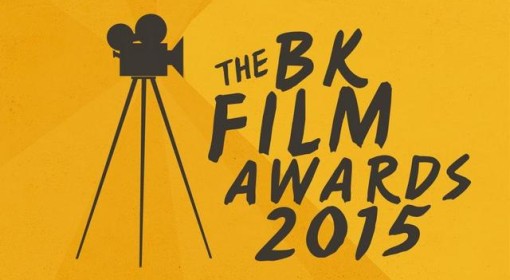 The BK film  => what BK loved and hated about Thai cinema in 2014.
Best Film – Teacher's Diary (Nithiwat Tharatorn)
OK, the writing or acting in this GTH rom-com won't blow any minds, but we think it's just about the best Thai film we watched last year. The premise of a guy falling in love with a girl by reading her diary could easily become bloated and bogged down by melodrama, which makes it even more impressive that director Nithiwat Tharathorn (of Seasons Change, the film that cemented GTH's position as the best Thai film company for many) was able to craft such a well-rounded story. The film has comedy and warm, fuzzy drama in just the right balance, making it a joy—and a breeze—to watch. The beautiful cinematography, which takes full advantage of one of Thailand's best-preserved natural environments, also deserves praise.
Best Leading Actress -Toei Jarinporn (Timeline)

The female lead in the sequel to 2004's hit romance film The Letter, Toei is a veteran of Thailand's film and TV industry, and she brings all that experience to the fore in portraying the lively and optimistic Mut. While Timeline's script is average at best, Toei instills her character with life and vigor, stealing every scene she's in. In fact, Toei's performance is the best thing about the film, hands down.
Best Leading Actor – Ananda Everingham (Concrete Clouds)

Ananda had a quiet 2013, possibly due to the backlash he received from the supremely disappointing 2012 film Shambala. His acting chops, however, have never been in doubt, and he was back to kick ass in 2014's Concrete Clouds. He fits the role of a foreign exchange student reluctantly called home perfectly, and his body language and mannerisms are as excellent as ever. Expect to see Ananda in every single TV commercial and music video again.
Best Supporting Actress -Marsha Wattanapanich (Love on the Rocks)

Marsha and her entourage of drinking friends are probably the only good thing about this illogical and poorly-thought out film. Her natural charisma and confident mannerisms make her character a joy to watch, even when everything else in the film makes not a lick of sense (let's not even get started on the irrationality of the two lead characters). It's a shame that her character only got such limited screen-time, and the second half of the film is infinitely less interesting without her.
Best Supporting Actor(s) – The kids in Teacher's Diary (Nithiwat Tharatorn)

It would be remiss not to mention all the kids who truly elevated this film from a run-of-the-mill love story into something more meaningful. The children also serve as another bridge between the two main characters, who supposedly never meet, giving them an important role in the overall story. The talent on display is also pretty impressive, with the kids pulling off comedic and dramatic scenes perfectly.
Best Documentary – The Master (Nawapol Thamronrattanarit)

This year, the edgy director of indie gems like 36 and Mary is Happy, Mary is Happy graced us with The Master, a documentary telling the story of Van Video, a humble little store that sold bootleg foreign art-house films back in the 90s and early 00s. The whole movie is basically just a bunch of people talking, answering interview questions with the occasional piece of inserted footage, yet it impressively elicited both laughter and tears from us throughout its run time.
Best Director Mez Tharatorn (I Fine…Thank You… Love You)

It was hardly a bumper year for Thai film, but the one production team you could rely on to deliver the laughs was GTH. As far as box office hits go, I Fine… Thank You… Love You had the second highest opening day for a Thai film ever—no laughing matter. As with his previous film, 2012's low-budget smash ATM: Er Rak Error, Mez showed a knack for telling a relatable story coated in over-the-top slapstick comedy, this time centering on English lessons and the often-unintended hilarity that ensues. The story isn't rocket science, but then we're not all rocket scientists, are we?
see more at the BK website
Source: BK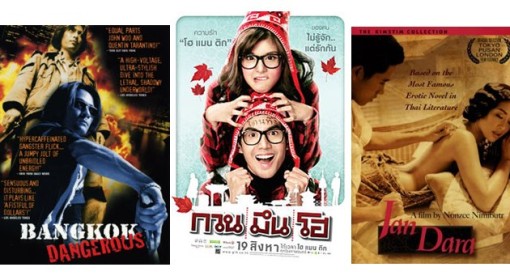 So what would be your list of best Thai movies ever?
This is what we have come up with. This would be our subjective list of best Thai movies. Not in any particular order. Just a list 😉 Enjoy!
Jan Dara
(2001), IMDB rating 6.3/10
Jan Dara is a highly erotic-period-drama that will take your imagination to dangerous places. The film is co-directed and written by Nonzee Nimibutr. The movie is co-starred by the beautiful Hong-Kong Actress Christy Chung. The movie debuted in 2001 at the Toronto International Film Festival. It is based on a novel by Utsana Phloengtham. Jan Dara won Thailand National Film Association Award as well as a variety of local and international festivals.
Hello Stranger
(2010), IMDB rating 7.6/10
Just like thousands of Thai couples, during the 9 days holiday of Songkran festival, a guy and a girl choose to visit Korea for their own specific reasons. They did not start the trip to go together, but end up returning back home together.
Friends Never Die
(2012), IMDB rating 7.7/10
"Song" is a freshman at a college meets "Gun" – the founder and leader of "Sperm Gang" by a chance. Song later steps into a gangster life. Through violence, brawls and temper of teenagers, each members of the gang learn what "Friendship" truly means.
The Billionaire
(2011), IMDB rating 7.9/10
What are you doing at his age? Age 16, TOP gained 400,000 Baht monthly from playing online games. Age 17, He was willing to fail school and instead earned money from selling chestnuts for 2,000 baht. Age 18, His family went bankrupt and remained 40 million Baht in debt. Age 19, He released Tao Kae Noi seaweed to more than 3,000 branches at 7-Eleven. At this present, Top is a 26-year-old businessman, the owner of the bestselling seaweed in Thailand. He owns 85 percent of the market share which is equivalent to 800 million Baht a year, and has 2,000 employees in his company. The Billionaire will let you get to know Top Ittipat in details about how he turned himself from an online game addict whom always got disparaged by teachers, to a famous young billionaire. How did he raise himself up to this position? Surely, everyone desires to get rich, yet not everyone dares to succeed like him. Find the answers that have made Top become a billionaire, while you still can.
Bangkok Traffic Love Story
(2009), IMDB rating 7.3/10
An urban love story set in the center of Bangkok where thirty-year-old Mei Li struggling to find true love. When Mei Li accidentally meets a handsome BTS engineer whom she considers as the right man, she plans to make her first move. Though too many obstacles keep popping up, Mei Li will never give up.
Chocolate
(2008), IMDB rating 7/10
An autistic girl with powerful martial art skills looks to settle her ailing mother's debts by seeking out the ruthless gangs that owe her family money.
The Protector
IMDB rating 7.1/10(2005)
A young fighter named Kham must go to Australia to retrieve his stolen elephant. With the help of a Thai-born Australian detective, Kham must take on all comers, including a gang led by an evil woman and her two deadly bodyguards.
Ong-bak
(2003), IMDB rating 7.2/10
When the head of a statue sacred to a village is stolen, a young martial artist goes to the big city and finds himself taking on the underworld to retrieve it.
Last Life in the Universe
(2003), IMDB rating 7.7/10
The comedy, Drama and Action movie was released in the year 2003 and it has made it to the international theaters because of its interesting story line. The film is about suicidal, Obsessive Compulsive (OCD) Japanese who is pushed by life to lie low in Thailand together with a pot-smoking woman who is struggling with the loss of a sister she cannot live without. The movie has received several local and international awards and nominations catapulting it to the international arena.
Bangkok dangerous
(2000), IMDB rating 6.7/10
Bangkok Dangerous is an action, thriller and crime movie released in 2000. It is about a deaf and mute hitman with his able partner who are operating in the city of Bangkok. He develops friendship with his partner's girlfriend who happens to be a strip dancer in a local club. He meets a nice and innocent girl who works in a pharmacy as he goes about his assassination business. As the story develops, he realizes that his actions hurt innocent people and he makes about turn to exert his revenge on former boss.
The latest Fox India Look Book was shoot by our team at Hilton in Hua Hin.
See backstage video:
and sample pictures:

The book "Drawn from Paradise", which includes the sketches from Bird Paradise, catches our attention and inspires us greatly for this collection. We researched about different behaviors of birds and transformed them into prints. For this show we want Vatanika to have a clear image of the ready-to-wear clothing and make it different from another couture line "Vatanika Atelier" that produces gowns and wedding dresses. The show attendees will see stronger identity of the brand and our emphasis on presenting women's natural curves.
Source: Vatanika Press Release
See all collection below:

From Sept 10-15, Elle Thailand will host the Elle Fashion Film Festival, marking the first movie-fest in Thailand on the theme of fashion.
Post International Media managing director Sirimon Na Nagara said with Elle magazine advancing into its third decade soon, and after the ''Burst out Your Style'' campaign earlier this year, she found that the brand is associated with various aspects of life through fashion. ''Elle magazine is more than just a fashion magazine. It is a part of life and culture. Weaim to be a fashion authority, and for us, fashion is all around. Film and fashion are inseparable — film influences fashion, and vice versa.''
While it is not easy to define a ''fashion film'', after hard work and months of preparation, nine films have been selected for the inaugural event, hand-picked by a five-person selection committee, namely Elle Thailand editor-in-chief Panu Sombatyanuchit, SF Corporation's Suwannee Chinchiawsharn, fashion stylist Araya Indra, Greyhound designer Jitsing Somboon and Bangkok Post film writer Kong Rithdee. None of the chosen films have been officially shown on the big screen in Thailand before.
Panu said that the nine films reflect fashion in different ways. ''Blancanieves, for example, is a Spanish black-and-white silent film based on the fairy tale Snow White. Being black-and-white, we can see the silhouette without the depth that comes with colour, and we can see the mesmerising movement of clothes. A Single Man, the first film directed by Tom Ford, is full of fashion references in great detail. If you like fashion, you will tremendously enjoy these films.''
Ultimately, the event is aimed at showing how fashion is accessible through lifestyle, according to Panu. ''Fashion is not just on the runways. There are so many ways to look at it, and film is one of them.''
Sirimon hopes the event, which will take place annually from now on, will inspire Thai people to try and make films that reflect fashion elements as well. ''This year, we feature movies from France, Spain, Canada, the US and China. I wish to see Thai films in the list in the future, and I hope that this event serves as an inspiration for Thai people to embrace fashion and enjoy it through their own interpretation.''
Fashion film festivals have taken place all around the world, from Croatia to South Korea and from the US to Japan, and the idea has been embraced by fashion and film crowds alike – and audiences who enjoy a thematic approach to movie-going.
ELLE Fashion Film Festival 2013 runs from Sept 10-15 at SFX Cinema, Emporium. Tickets cost 150 baht per seat, with 184 seats available per movie. An art installation will be displayed as a part of the festival at Fashion Avenue, 1st floor, Emporium.
ELLE Fashion Film Festival 2013 schedule:
Tuesday 10th
8:00 PM     –     Single Man
Wednesday 11th
8:00 PM     –     Blancanieves
Thursday 12th
8:00 PM     –    I Am Love
Friday 13th
8:00 PM     –    L'Amour Fou
Saturday 14th
2.00 PM     –    Face
5.00 PM     –    Color Me love
7.30 PM     –    Coco Chanel and Igor Stravinsky
Sun 15th
3.00 PM     –    Heartbeats
8:00 PM     –    Farewell My Queen
I am Love
"As a young, working class Russian, Emma (Tilda Swinton) is whisked away to marriage and life in the aristocracy of Milan. She dutifully raises her kids and organizes huge dinners and parties at their mansion as the Rechhi's entertain business clients and their own family. It is during these parties that we realize Emma is technically part of the family, but really is still an outsider. She escapes to her own space once the events are running smoothly.
Being an avid cook herself, she easily clicks with a brilliant young chef introduced to the family by her own son. Very little doubt where it's headed at this point as Emma unleashes the pent up energy she has been forced to hide. While we are very aware that the upper crust has learned to look the other way with infidelity, that's not the case with the Rechhi's and their Russian wife/mother.
The brilliance in the film is that it shows how the younger generation doesn't really fit any better than Emma. The difference is that they are part of the fabric and will be allowed more rope than an outsider. Still it is painful to watch Emma and her son, who can't quite adapt to the family business. Better yet, to watch her with her daughter, who confesses her preference for other women. Emma sees herself in these two, but doesn't have the same freedom. Her best ally is the caretaker who seems to understand the multiple levels on which this family functions.
Fascinating interactions and complex writing make this a film for film lovers. There is so little dialogue, but so much is said with a glance or head nod." (by imdb.com)
Single man
"The curtain rises on a despondent George (Firth) having lost his longtime partner. Sapped of energy and will, he struggles to wake each day and function as the brilliant college professor he's expected to be. Few notice the change in him, but one student sees George as a magnet pulling him forward to a place even he doesn't understand. Kenny (Hoult) seems to glow like an angel in George's dark world and, yet, is a puzzle and presents a challenge which he doesn't necessarily want to confront at this stage in his life. As is his custom, he turns to Charlotte (Moore) for a warm shoulder but the temperature drops amidst the chill surrounding George's bleak existence.
Everything about this film — the look, colors, pacing, shots, composition, cinematography, costumes, soundtrack — says that an extraordinary amount of love and care went into it. Special mention to director of photography Eduard Grau and editor Joan Sobel for their keen abilities to work lockstep with Ford in projecting his vision onto the screen. Abel Korzeniowski's score is haunting and moving. Despite his design genius, Ford was generous enough to entrust costume designer Arianne Phillips with the freedom to work unencumbered. Production designer Dan Bishop, with art direction by Ian Phillips and set decorator Amy Wells, created two worlds — a cold, stark one in which George sees only hopelessness, and another warm, colorful one in which he has hope.
What stays with the viewer, though, is the enigmatic friendship between George and Kenny. Nicholas Hoult is absolutely mesmerizing in this. The way Ford shot him made people gasp. He's lit, framed, and shot like an Adonis. Of course, that's the idea here. This will definitely be a break out role for the 19-year-old. The camera loves him, and it's a pretty daring performance.
Most of all, this is a tour de force for Firth and a stunning achievement which is destined to be a highlight of his distinguished career. The range of emotions and the extent to which his character must convey them through his eyes and facial expressions, with the copious use of long takes without dialogue, left me wide-eyed with wonder." (imdb.com)
Moviemov Italian Film Festival, a showcase for the most representative Italian movies of the current year, brings to Asia only films unreleased in the host countries. Seven movies of the season 2012|2013 will be screened every day complemented with specific promotional activities, including the participation of famous Italian directors and actors to Q&A sessions with the press and the audience and meetings with the students. The program will include a retrospective dedicated to one of the most famous cinema Master and a Thai showcase.
All screenings are free entrance with Thai/Eng subtitles
See the whole schedule here
Enjoy collection of images from the latest event organized by us and Bangkok Event Entertainment at Atlantis Club in Hua Hin.
Maggie Choo's is the latest creation of the popular designer Ashley Sutton, the man behind the incredible 'Bookshop' and 'Iron Fairies' bars. Located at the end on Silom road, under the Novotel Fenix Silom and near to the famous 'Sky Bar' at Lebua, Maggie Choo's is both a restaurant and a bar, a place like nothing we have seen before in Bangkok or beyond.
The roster of live music includes R&B, blues and soul from Keithen Carter, a veteran of the Chicago scene
who has worked with Chaka Khan, Ramsey Lewis and Curtis Mayfield, among others. When he's not crooning and finger clickin' beside the piano, there might be a DJ spinning or a set from Jul & Co, a French duo who fuse live lounge grooves with Daft Punk-style vocoder.
We had a chance to shoot Keithen and Jul & Co there. See some pictures from the session below:
all pictures by allPhoto Bangkok
BK Magazine has asked Bangkokians "What is it that you love so very dearly about your beautiful city?"
This is what they said:
Source: BK
See video from our last shoot in Hua Hin
Location: Hua Hin, Thailand
Photography: allPhoto Bangkok
Video & editing: T.A.I. Films
Models: EM Modeling
Event Coordination: Bangkok Event Entertainment
Shoot for: Thai Fashion Design

Pictures from Short Films Thailand Cultural Festival 2013 Gala.
19th April 2013
Kinki Rooftop Bar Bangkok, 21st April 2013
AB-Normal is the streets-wear brand for these who prefer the kind of edgy simplicity that gives wearers a unique character of their own – the inspiration comes from sculpture. Naming his collection "Wear White", designer Thaweesak Samanmit interprets the solid, strong structure of sculpture with a tender perspective. Using techniques that involves lines and polka dots, achieved through tucking and studs, the collection comes in an organic palette such as colors of soil, stone, cement and sand with white serving as a staple alongside beige, grey and black. The silhouettes remain simple, albeit with smart details in AB-Normal's Signature "Simple Chic" style.
See the entire collection below.
For editorial usage, please contact us
A few pictures from the newest music video production in Bash Night Club in Bangkok, Soi 11 Sukhumvit
The newest collection of Tannishtha shown at Banglore Fashion Week (Bangkok edition) in Central World on the 22th of March 2013.
For editorial usage, please contact us
The newest collection of Victeerut shown at Elle Fashion Week Bangkok in W Hotel on the 16th of March 2013.
For editorial usage, please contact us
By the February 18th you can submit pictures for the Bangkok Post "MY BANGKOK" Photo Contest.
T&C are available here.
Some of the submitted images you can see at Bangkok post Facebook albums: