An Amateur Street Photographer Taking China by Storm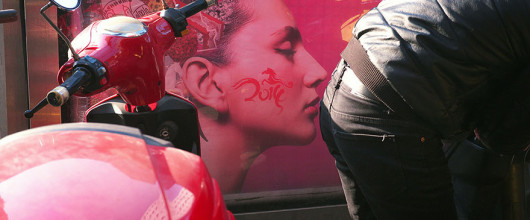 Three months ago, Tao Liu was just a water-meter reader in the Chinese city of Hefei
Early in October, in the third-tier Chinese city of Hefei in the province of Anhui, the young street photographer Tao Liu became an overnight sensation. His witty images, which poke fun at contemporary issues in China – from overindulging parents to commercialism and the boundless urban expansion – were first shown on Weibo, China's Twitter-like social network, by Life Week magazine.
Within 24 hours, the post had been shared more than 40,000 times, attracting the attention of the Chinese Central Television network. A week later, Liu was a household name in China.
With an ever-growing photography market, fueled by the popularity of high-end digital SLRs, China doesn't lack quality imagery. Yet, Liu's images struck a chord when others didn't. His work often comes across as humorous, but he tells TIME, his goal is to present his own take on the world, which, he says, is loosely defined and open for interpretation.
But Liu is not your conventional street photographer. Instead, the 32-year-old is a water-meter reader for the Hefei Water Supply Company. Every morning from 8.30 a.m., he rides his motorbike on the city's roads and spends his day hunched over to record businesses' water usage. Armed with a Fujifilm X100 camera, he lingers on the streets during lunch breaks and after work to satisfy his love for photography.
Liu joined the military after high school and spent two years working as a prison guard in Shanghai during his service. He doesn't think of himself as particularly well educated, he tells TIME, but he's always hoped for a career in the arts.
After his service, Liu first worked in a water plant in Hefei and later transferred to the state-owned water supply company, with the wish of getting a desk job. "When I was out meeting with friends, I didn't feel good about my job as a water meter reader," he says. "They are all office workers. People who sit in [offices] are dressed very clean and proper."
Liu's photography took off when he discovered the work of Japanese master Daido Moriyama. "I found him [to be] a very focused photographer," he says, referring to Moriyama's long-term work on the streets of Shinjuku, Tokyo. "I chose my camera based on what he uses."
Liu taught himself photography, regularly driving several miles to a small bookstore to find magazines and photo books. He subscribed to an Internet proxy to by-pass his country's online censorship rules so he could watch photographers' talks on YouTube and post some of his own images on a Facebook group of Asian street photographers.
One day, he received feedback from a Taiwanese photographer who sent him what he calls both a polite and flattering message. "He called me Mr. Liu!" he says, feeling pride for his work. "Although I'm not in big cities like Beijing or Shanghai, I felt connected to the world through the photos I took of [Hefei]."
With his newfound fame, many expected Liu to switch careers to open a photo studio or to take on the offer of a full-time job from a local newspaper. But, he declined to do both. "China is getting very utilitarian, and I want to challenge that by calming down and focusing on one thing," he says. "But now I definitely won't choose to go work in an office, not even if they pay me more!"
See samples below and for more visit his facebook page
Source: time.com