Double Exposures of Two of the Most Photogenic Cities in the World, New York City and London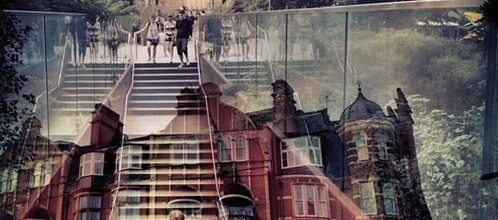 Digital technology is such a good thing especially for those with extremely creative imaginations. London-based artist Daniella Zalcman realizes the concept behind her latest project, which is simply called New York + London: A Collection of Double Exposures. As the title declares, the collection is simply what it states.
From the Far Rockaway to the South Bronx in New York, or from Hammersmith all the way to White Chapel in London, the series merges iconic landmarks and imagery, turning into a series of amalgamated images of locations, haunts and skylines.
Originally inspired by the concept during her last month in New York City, Zalcman snapped over 100 smartphone photographs of the streets in NYC. With that start, she then used different smartphone apps to juxtapose her pictures of the Big Apple over images of London.
The composite results reveal striking similarities between two of the world's most iconic cities. Zalcman's work has been featured in The Wall Street Journal, Vanity Fair, and Sports Illustrated, and she is at present raising funds thru Kickstarter to fund a photo book of her work.
Zalcman recently spoke of New York + London: A Collection of Double Exposures,
"I was inspired by my move from New York City to London last year. I think it's natural (and unavoidable) to constantly compare your old home and your new home when you move somewhere new ("London cab drivers actually know how to get around!" "The Tube closes at 12:30am?!"), and this is my way of visually capturing that instinct. These images are very much about architecture and urban infrastructure and I love comparing the two cities in that particular respect. London feels like such an old city rooted in visual tradition, where New York always feels like it's trying to be as shiny and new as possible."
Source: Double Exposure