360 Virtual Tours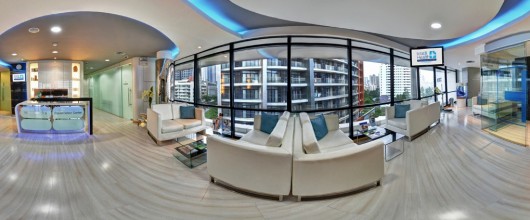 Overview
allPhoto Bangkok will create the 360 panoramas and design a custom 360 panoramic virtual tour for you to sell your real estate or have visitors to see your establishment. A virtual 360 tour of a house is an excellent way for showing potential home buyers detailed views of what you want them to see. Great for showing off real estate, restaurants, hotels, college campuses, schools, studios and many others.
We utilize state of the art digital imaging technology to create highly detailed fullscreen 360° interactive panoramas. These are true spherical images: Imagine being at the center of a sphere with the image covering the entire inner surface. The images can be scrolled around a full 360° and 180° from straight up to straight down. You control where you look. Zoom in for closer inspection, or zoom out for an even wider view. It's the next best thing to being there.
Offer
Interactive panoramas are a great enhancement to a wide variety of web sites, including:
-Architecture – showcase your designs with 360° panoramas
-Hotels/Motels/B&Bs – 360° panoramas are perfect for showing guest rooms, meeting rooms and common areas
-Real Estate – high quality 360° virtual tours of properties for sale
-Galleries/Museums/Exhibitors – attract more visitors with a 360° panorama
-Businesses – put a 360° panorama of your showroom on your web site
-Builders – showcase your projects with 360° panoramas
We shoot in Bangkok as well as all over Thailand and SE Asia.
See sample below and contact us te get more information
Sample 360 degree VT
Pricing
Contact us to get offer tailored to your needs.
Stay assured that our pricing is always competitive!
Travel
There is no charge for travel within a 20 km radius of Central Bangkok. Locations outside the 20 km radius are subject to refund of any costs needed to get to the shoot place.
Tagged with:
Apartment, Business, Commercial, Condo, Corporate, Facilities, House, Indoor, Industry, Office, Outdoor, Panorama, Premises, Property, Real Estate, Virtual Tours,