Photography Studio for Hire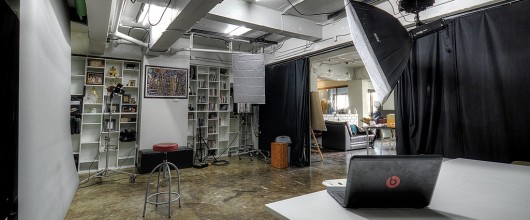 Overview
We have fully equipped professional studio just at the corner or Lumphini  Park (Sathorn Soi 2) in a friendly office environment.
The Studio Equipment includes:
– 4 color automated backdrop system (black, white, grey and green; additional can be bought on request)
– 4 strobe lights with triggers (800 and 400 watt with 2 soft boxes, 2x 250 watt backdrop and hair light with honeycombs, gels and barn doors)
– 1 Flash ringlight
– 1 Kinoflow 4 bank 2 feet
– 2x 1000watt led panel lights with dimmer and v-mount
– 1x 900watt led panel light with dimmer and v-mount
– 2x on board led panel lights
Additional photo and video equipment available for hire
1x Nikon D800
1x Canon 5D mark III
1x Canon 5D mark II
1x Red MX one cinema camera
Canon lenses: 16-35mm F2.8; 24-105mm F4.0; 70-200mm F2.8
Nikon prime lenses: 20mm F2.8; 35mm F1.4; 50mm F1.4; 85mm F1.4; 105mm F1.8
Nikon Lens: 80-200mm F2.8, 24-70mm F 2.8, 70-300mm F4, 10-20mm F4, Fisheye 10.5mm F2.8, 20mm F1.8, 50mm F1.8
Media Production Staff available for hire
– Photographers,Videographers
– Photo and video editing
– Models, Actors, Make Up Artists, Stylists
Facilities
– Studio dimensions are about 9 by 5 m, roughly 45 sq. m.
– Airconditioning, Toilet, Shower, Kitchen, Refrigerator, Coffee/Tea maker

Pricing
4h – 6,000 THB
8h – 10,000THB
Video lighting, photographic equipment (cameras, lenses), media production staff is charged separately.
Contact us to get offer tailored to your needs.
Stay assured that our pricing is always competitive!
Tagged with:
Advertising, Beauty, Boudoir, Business, Catalog, Catalogue, Commercial, Corporate, Couple, Editorial, Family, Fashion, Film, Food, Friends, Glamour, Headshot, Indoor, Industry, Lifestyle, Look Book, Magazine, Make-Up, Makeover, Model, Movie, Music, Musician, People, Personal, Pin-Up, Portfolio, Portrait, Product, Staff, Still life, Studio, Video,