Aerial Photography of Poland's Lakes Shot Across Four Seasons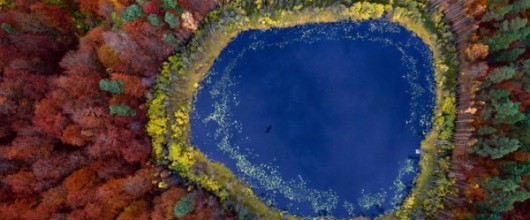 Photographer Kacper Kowalski's aerial photos of Poland make for a flattering introduction to the country. Protruding into the southern Baltic sea, Pomerania in Poland is well-known for its great areas of forests that are scattered with lakes and winding rivers. The Kashubian Lake District is a land of enormous forests, rolling hills, untamed ravines speckled with giant boulders, colorful fields, picturesque villages, active rivers and hundreds of beautiful lakes.
During fall, the diverse forest sites turn into a sea of colors, with the leaves wilting at varying degrees while exposing the deep undergrowth as well as waterways. While airborne from para-gliders and geo-planes, Kacper Kowalski has been photographing this beautiful area from the air for years. His glorious pictures demonstrate nature's exquisiteness as it transforms through a year.