John Stanmeyer wins World Press Photo 2014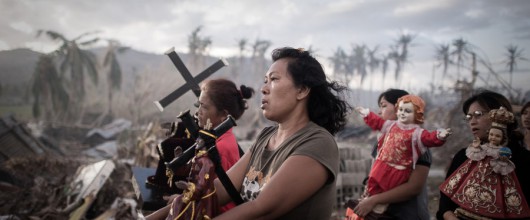 John Stanmeyer, a VII Photo member and National Geographic contributor, has won World Press Photo of the Year for an image of African migrants on the shore of Djibouti, "raising their phones in an attempt to capture an inexpensive signal from neighbouring Somalia"
World Press Photo of the Year 2013: 26 February 2013, Djibouti City, Djibouti African migrants on the shore of Djibouti city at night, raising their phones in an attempt to capture an inexpensive signal from neighboring Somalia—a tenuous link to relatives abroad. Djibouti is a common stop-off point for migrants in transit from such countries as Somalia, Ethiopia and Eritrea, seeking a better life in Europe and the Middle East © John Stanmeyer, USA, VII for National Geographic
"It's a photo that is connected to so many other stories – it opens up discussions about technology, globalisation, migration, poverty, desperation, alienation, humanity," says Jillian Edelstein, jury member of this year's World Press Photo. "It's a very sophisticated, powerfully nuanced image. It is so subtly done, so poetic, yet instilled with meaning, conveying issues of great gravity and concern in the world today."
US photographer John Stanmeyer of VII Photo was on assignment with National Geographic when he shot this image of "African migrants on the shore of Djibouti city at night, raising their phones in an attempt to capture an inexpensive signal from neighbouring Somalia – a tenuous link to relatives abroad," reads the caption. "Djibouti is a common stop-off for migrants in transit from countries such as Somalia, Ethiopia and Eritrea seeking a better life in Europe and the Middle East." The picture also won 1st Prize in the Contemporary Issues category.
Speaking to BJP, Stanmeyer says: "It's an honour and privilege to win. I hope it communicated the reality that we could be any one of those people on the beach, trying to talk to our families back home."
The image was shot during the first part of a multi-year project for National Geographic on human migration in northern Africa. "I spent a month driving and walking through Ethiopia and ended up in Djibouti, and I remember talking with my writer Paul Salopek on the beach at the Red Sea where, ironically, 60,000 years ago there was a land bridge that allowed us to continue our path – to connect. Today, we have other means of connecting, using, for example, mobile phone signals. I was in Djibouti city, walking along the beach looking for things to photograph, and I remember coming across that spot and seeing all of these people here; I asked my translator what they were doing. They were engaged in what is called 'catching'. They were trying to get a signal to talk to their loved ones at home. How can modern-day migration be more illustrated than this?"
Stanmeyer photographed at night in a bid to protect his subjects' identity and privacy. "People are very skittish, they don't want to be seen. Understandably. And I love photographing at night – it was a full moon that night."
Stanmeyer didn't expect to win the World Press Photo of the Year, which, he says, should also go to the entire team who worked with him on the story: "The writer, the photo editor I've worked with, the magazine that supports reportage storytelling. And it's also for the people in the image. I'm glad that I'm able to communicate something that is universal to us all. I have been that man or that woman in that frame countless times as I tried to reach my family back home. I'm thankful and honoured that something poetic, that I hope screams loudly, is shared this way now."
David Guttenfelder, a photographer with Associated Press and also a jury member, says: "The photo is like a message in a bottle, it is one that will last. People will bring their own life experiences to it as they stand in front of it."
"What we're looking for in the winning image is the same quality you would look for in a great film or in literature – the impression that it exists on more than one level, that it makes you think about things you haven't thought about," adds jury member Susan Linfield. "You begin to explore the layers, not only of what's there but of what isn't there. So many pictures of migrants show them as bedraggled and pathetic; this photo is not so much romantic as it is dignified."
Sarah Leen, National Geographic's director of photography, welcomes the win. "John Stanmeyer's winning image was the lead photograph in National Geographic magazine's December 2013 story 'Out of Eden'. It is an image of beauty and magic and wonderfully mysterious," she tells BJP. "It worked marvellously within our story but it also stands as an icon for the digital era we are living in. Today we seek connection and community with texts, tweets, images and emails. This photograph beautifully, and poignantly, speaks to that desire for connection thru a particular community of people separated from their families and loved one. It is a wonderful choice."
Stanmeyer's image was selected from among 98,671 images submitted by 5754 photographers from 132 countries. The jury was chaired by Gary Knight, also of VII Photo. He talks about the process: "Whenever anything comes on the screen, you are obliged to state to the jury that you have a potential conflict of interest. Every single time, you have to do the same thing. You repeat it over and over again. That was absolutely the case for me, and it was the case with many of the other jurors with photographs entered in this competition."
He adds: "Also, David Campbell, the secretary, has written down all of our associations, and if he notices that there is a pattern in our advocacy or our voting that is consistent with the professional relationship we may have, we get called out on it."
Winners
Other winners include: French photographer Philippe Lopez, who took first place in the Spot News (singles) category for his image of typhoon survivors in the Philippines; Goran Tomasevic from Serbia, who won first prize in the Spot News (stories) category for his image of rebels attacking a government checkpoint in Damascus, Syria; and Alessandro Penso from Italy, who won the General News (singles) category for his image of Syrian refugees. US photographer Sara Naomi Lewkowicz took first place in the Contemporary Issues (stories) category for her portrait of domestic violence; Markus Schreiber from Germany won first prize for his image Farewell Mandela, Pretoria, South Africa; and Julius Schrank, also from Germany, took first prize in the Daily Life (singles) category for his image of Kachin fighters in Burma.
Last year, Swedish photographer Paul Hansen won the World Press Photo of the Year title for a picture of a group of men carrying the bodies of two dead children through a street in Gaza City. The picture proved controversial after Hansen was accused of manipulating and toning his image. The ensuing debate forced World Press Photo to change its rules regarding "the permissible levels in post-processing of image files" submitted.
BJP Editor Simon Bainbridge comments:
The more I see John Stanmeyer's World Press Photo of the Year, the more I like it.
On first glance, seen without a caption, it looks like a rather cliched setup shot for a telecommunications advert, the silhouetted figures resembling sculptures – a naff reference to Mayans praying to their sun god, perhaps? – holding their mobile phones aloft in apparent reverence. But that works in favour of the picture when you learn that it is a reportage shot, and it highlights one of the most important stories of our times.
The figures are, in fact, African migrants, standing on the shoreline of Djibouti, the small republic wedged between the war-torn countries of Eritrea, Ethiopia and Somalia on one side, and the kleptocracy of Yemen, a short hop across the Gulf of Aden, on the other. They are holding their mobiles aloft in an attempt to catch a less-expensive phone signal from Somalia – maybe their only link to relatives abroad, or perhaps to contacts who will help them transit to Europe or the Middle East in search of better lives.
It is then a surprising picture, quite different from the images we are usually given to illustrate the wider story of migration out of Africa. It also hints at the role technology plays in this story, highlighting the fact that mobile phones, the internet and social media are bringing the so-called Undeveloped World closer to us in the West much quicker than the often arduous journey that migrants take to escape war or poverty – a reminder that our wealth and opportunity can no longer remain hidden.
see all pictures in the gallery

Source: BJP