Woman – Animal Headshots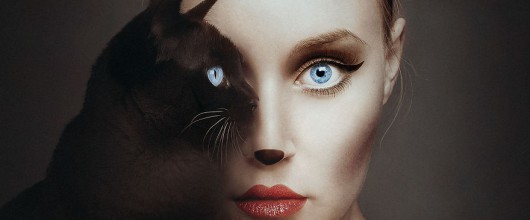 The photo-shoot was done in 1 hour, I just made pictures of myself with the matching hairstyle and makeup, and then matched with the photos of each animal. The manipulation took me up to 20 hours for each. "Animeyed" previously appeared on many social media platforms, but now it's an extended version with additional images.
I observed the angle, lighting, color and texture. The most typical things on each animal. I made a mood-board, I was inspired by makeup artists, and hairdressers' earlier works found on web.
I was amazed by the peculiarity of each species. I realized how perfect the Nature is, and the similarity between humans and animals. I love animals, and somehow I wanted to show that we are very similar to them. I also wanted to show how unique and special they are, one by one. From the fish to the cat.
I wanted to show the similarity between our eyes, and through this composition our likeness. The first picture what I made was the "Rabbit", and after this I decided to continue the series with this "right eye" set-up.
I used myself because it's the easiest way for me to produce pictures. I don't need to do model license or instruct the model what to do. It's all mine, and I know the look, expression what I need. I can achieve the result just in a few hours of shooting.
I tried to explore the human identity, what makes us human, and what is the relation between animals and people. The beauty what they give us through their look with their existence. People appreciate pretty body and face more, but these species are less appreciated in my opinion. So I wanted to draw attention to their unique look and existence.
Text & Pictures by Flora Borsi
Source: boredpanda.com
More info: floraborsi.com