Swedish Photographer Paul Hansen wins World Press Photo of the Year 2012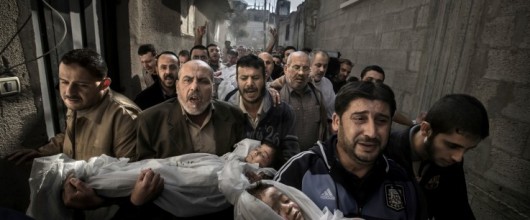 The international jury of the 56th annual World Press Photo Contest has selected a picture by Paul Hansen of the Swedish daily Dagens Nyheter as the World Press Photo of the Year 2012. The picture shows a group of men carrying the bodies of two dead children through a street in Gaza City. They are being taken to a mosque for the burial ceremony while their father's body is carried behind on a stretcher. Two-year-old Suhaib Hijazi and his older brother Muhammad were killed when their house was destroyed by an Israeli missile strike. Their mother was put in intensive care. The picture was made on 20 November 2012 in Gaza City, Palestinian Territories.
The jury gave prizes in nine themed categories to 54 photographers of 33 nationalities from: Argentina, Australia, Belgium, Brazil, Canada, Chile, China, Czech Republic, Denmark, France, Germany, India, Indonesia, Iran, Italy, Jordan, Malaysia, Mexico, Palestinian Territories, the Netherlands, Peru, Poland, Portugal, Russia, Serbia, South Africa, Spain, Sweden, Switzerland, Turkey, United Kingdom, USA, and Vietnam.
The members of the jury announced the winners at a press conference held at the World Press Photo office in Amsterdam on 15 February.
Comments on the winners by the jury
Mayu Mohanna, jury member from Peru, said of Paul Hansen's winning picture: "The strength of the pictures lies in the way it contrasts the anger and sorrow of the adults with the innocence of the children. It's a picture I will not forget."
Santiago Lyon, vice president and director of photography at The Associated Press, spoke of the selection of prizewinners: "When I look at the results, as chair of the jury, I think that the World Press Photo of the Year, and all the other photos that were given prizes, were solid, stellar examples of first-rate photojournalism that is powerful, that is lasting, and that will reach whoever looks at them."
The judging was conducted at the World Press Photo office in Amsterdam. All entries were anonymously presented to the jury, who discussed their merits over a two-week period. The jury operates independently and a secretary without voting rights safeguards the fairness of the procedure. The contest drew entries from professional press photographers, photojournalists and documentary photographers across the world. By the mid-January deadline, 103,481 images had been submitted by 5,666 photographers from 124 countries.
View all winners in the online gallery.